FINAL ISSUE
May 2012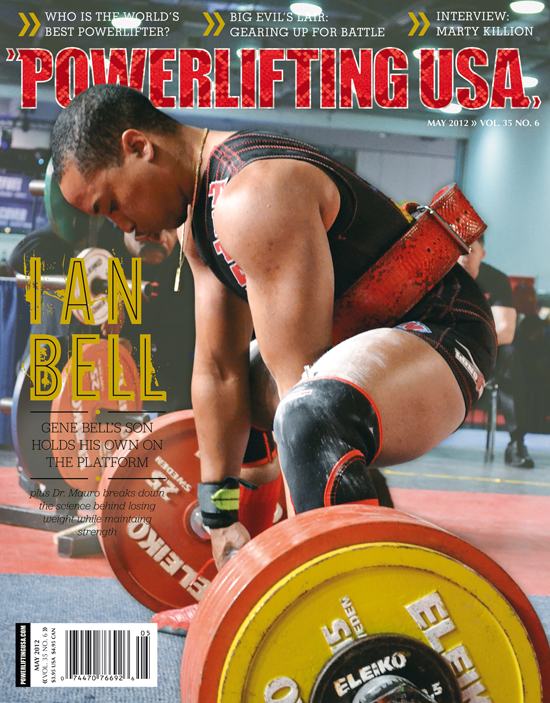 To those with an interest in POWERLIFTING USA magazine:
After exactly 35 years, and about 1/2 billion pages of printed matter distributed, the May 2012 issue will be the last edition of POWERLIFTING USA magazine produced by Mike Lambert. We have been "bleeding out" financially and the future outlook for print magazines is bleak. We consider the marketplace to be a democracy, and we recognize that consumers vote with their dollars. When financial support for a given venture starts to slip away, it's like an election and--like it or not--you have to "leave office," which I accept. We are making arrangements to fulfill our obligation to our subscribers with another publication in our field. We will maintain our website and Facebook presence for the time being. Someone may come out of the woodwork with a great idea on how to continue POWERLIFTING USA in some way, and we will let you know if that happens.
One of my mentors was the late Peary Rader, who published IRON MAN magazine for 50 years. I am not a fraction of the publisher and man that Peary was, but I used to think if POWERLIFTING USA could at least go for 37.5 years (75%) that would be great. Well, we made it to 70%, and that's still a fair run.
I thank God for blessing me with the best job I could have ever had, and for so long. I thank my wife In Joo and my daughter Laura and my son Curtis, as well as my brother Pat, and my late parents Jean and Wes for their love and encouragement over a span of 5 decades. I thank Kelly Lambert (my amazing new daughter-in-law), Priscilla Ramirez, and Butterfli O'Shea for their recent contributions, which we completely could not have done without, as well as everyone else who ever contributed to and/or worked for the magazine. I recognize and appreciate all the powerlifting organizations, all the advertisers, and … especially… all the powerlifters and fans who actually cracked open their wallets and paid money to read what we had to say in the magazine! (That still seems like a miracle to me!) THANK YOU!
Mike Lambert
Click Here For More On This Issue
PL USA ARTICLES
STARTIN' OUT
May 2012 - Forced Reps by Doug Daniels
Click Here For The Full Article
POWER INTERVIEW
May 2012 - Marty Killion by Curt Dennis Jr.
Click Here For The Full Article
HARDCORE GYM
May 2012 - #117 Mana Barbell by Rick Brewer
Click Here For The Full Article
WESTSIDE TRAINING
May 2012 - Raw Benching by Louie Simmons
Click Here For The Full Article
ASK THE DOCTOR
May 2012 - Ask The Doctor by Dr. Mauro DiPasquale
Click Here For The Full Article
COMING EVENTS
5.3.2012 APA Arkansas Open Strength Fest (Pocahontas, AR), Scott Taylor, 356 Lakeland Dr. Lot 3, Hot Springs, AR 71913, 941.626.4247, scott@apa-wpa.com
www.apa-wpa.com
5.4-6.2012 USAPL Master Nationals (Denver, CO), Dan Gaudreau, 303.475.3366
www.usapowerlifting.com
5.5.2012 SLP Lifetime Natural Powerlifting Nationals (TBA), Dr. Darrell Latch, Son Light Power, 206 South Washington Street, Tuscola, IL 61953, 217.508.9297, sonlightgym@frontier.com
www.sonlightpower.com
5.5.2012 NASA Western States Nationals (Mesa, AZ), Rich Peters, sqbpdl@aol.com
www.nasa-sports.com
5.5.2012 RPS Championship of the Virginia's (Manassas, VA), Gene Rychlak, Jr., gene@revolutionpowerlifting.com, 610.948.7823, 143 Second Ave., Royersford, PA 19468
www.rychlakpowersystems.com
5.5.2012 APF/AAPF Great Lakes Open (PL/BP/Ironman) (Grand Rapids, MI), Andy Briggs, 616.935.2380
www.worldpowerliftingcongress.com
5.5.2012 USPA Las Vegas Open and Southwest Regional Championship (Las Vegas, NV), Steve Denison, steve@uspla.org, 661.333.9800
www.uspla.org
5.5.2012 RPS Vermont and New Hampshire State Championships (PL/PP/BP/DL) (Fair Haven, VT) at Fair Haven Fitness, James Matta, capejam@hotmail.com, 802.265.3470
www.revolutionpowerlifting.com
5.5.2012 IBP 4th Annual NC State Youth/Teen Powerlifting Championships (Statesville, NC), Keith Payne, 336.251.8704, keith@ironboypowerlifting.net
www.ironboypowerlifting.com
5.6.2012 WNPF South Carolina PL/BP/DL/PC Championships (Clemson, SC), Troy Ford, wnpf@aol.com, 770.668.4841
www.wnpf.net